Powerhoop Success Stories
Fellow hoopers and instructors share their Powerhoop success stories.
Above: Barbel Williamson, 52, Northumberland UK:
"I have gone from a size 24 to a 10. I can honestly say that Powerhoop classes made all the difference." Read Barbel's Powerhoop Success Story in The Daily Mirror.

"The use of a Powerhoop® weighted hoop for 6 weeks was associated with a slimmer waistline and hips. The change in skinfold measures suggest a redistribution of body mass."
-Stuart McGill PhD, and Jordan Andersen BSc, Faculty of Applied Health Sciences, University of Waterloo, Canada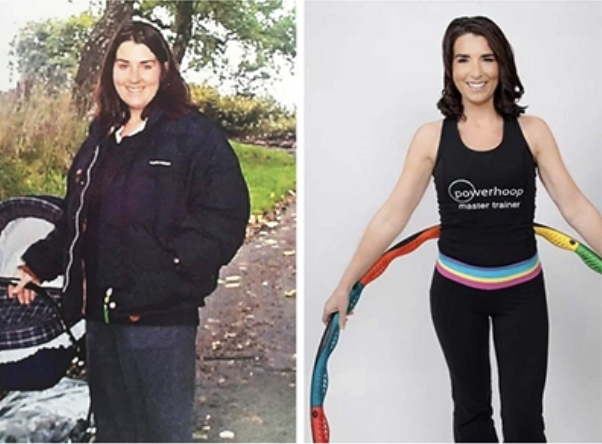 Amy McAuley,
Scotland & New Zealand
"The moment I tried a Powerhoop Class I knew it was something special. I had struggled to find an exercise that I enjoyed, and fell in love with hooping from the first class. I suffered terrible sciatica after having my three kids, which resolved after I starting hooping. I love what Powerhoop has done for my body. I've lost a great deal of weight, I have never been stronger and my confidence has grown so much. Powerhooping is one of the best things that has ever happened to me. In 2013 I became a Powerhoop instructor myself and started my own fitness business: Powerhoop NZ. "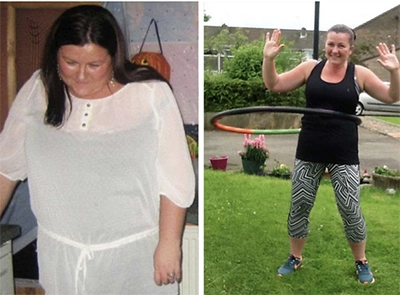 Nicola Galloway, age 37
Newcastle UK
Weight loss: 2.5 stone (35 lbs)

"I was 22 stone and had been trying to lose weight for years. I lost five stone but came to a plateau. Then I discovered Powerhoop classes. This is the only exercise I've ever enjoyed - I was addicted straight away. It is a full body workout and great fun. I've noticed a massive difference in my waist and stomach and I recommend it to anyone. I've lost another 2.5 stone in the last 9 months – I am so pleased! Power to the hoop!"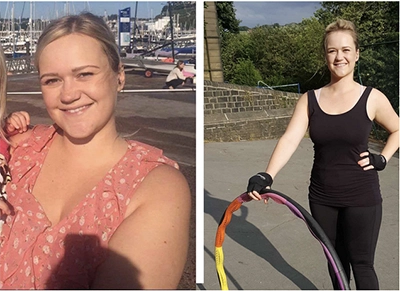 Sarah Coldwell, age 24
Yorkshire, UK
Weight loss: 2 stone, 2 lbs (30 lbs)

"Before starting Powerhoop classes I was the biggest I'd ever been. I desperately needed to take action. I'd heard about Powerhoop classes through a friend - although I felt uncomfortable with my size I really enjoyed the fun, upbeat class. I walked away thinking 'this is the change I need.' I've been so motivated by Powerhoop, and my class instructor Michelle has been the best to help me on my journey."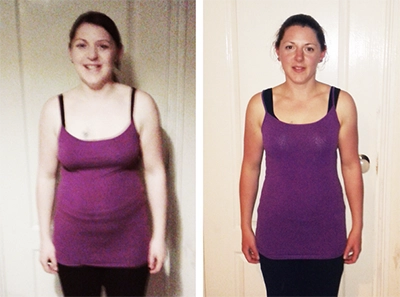 Melissa Bond, age 30
Welling, UK
"I was miserable with the changes in my body after having children but I found the gym boring. Powerhoop changed my life. Within 6 weeks I had lost 2 inches from my waist! After hooping for 6 months I'd gone on to lose a further 4 inches from my waist. The weight was staying off. I felt awesome and returned to my pre-pregnancy size, something I thought was impossible! Becoming a Powerhoop instructor myself was one of the best decisions I ever made."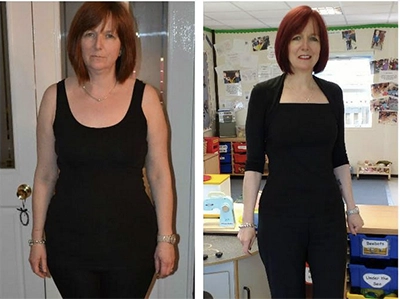 Jo Hedges, age 44,
Cambridgeshire, UK
Weight loss: 2st 3lb (31 lbs)

"I hadn't found any exercise that didn't bore me and that I actually enjoyed. I signed up for Powerhoop classes despite never having been able to hula hoop before. In six months I lost 31 lbs and I feel great! I love the class, there are all abilities and it's not competitive - we just enjoy ourselves. Powerhoop has encouraged me to have more faith in myself."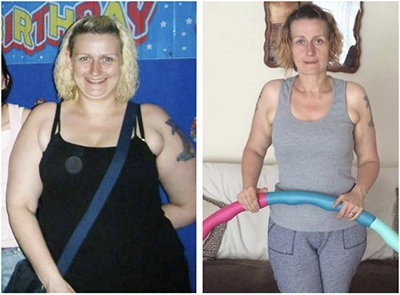 Beverly Burn, age 40
Newcastle, UK
Weight loss: 4.5 stone (63 lbs)

"I love Powerhooping because I feel a lot fitter/ healthier and it has tightened my core muscles. I had lots of loose skin as I have had 6 kids, and since I started Powerhooping it has shrunk a lot. I also have made a really good friend in my instructor Nicolle, we have fun while working out with her and it's thanks to her encouragement that has kept me going. She is a star and Powerhooping has given me the results I was looking for. I have lost 4.5 stone in total! Very happy indeed."
Hoopers are amazed by how quickly they see results:
Slimmer waist
Toned hips, thighs and buttocks
Reduced lower back pain
Stronger core muscles
Improved coordination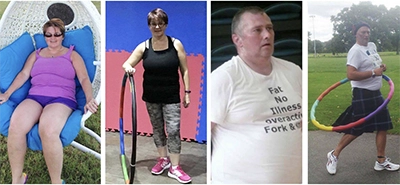 Sheila Barclay, age 52
Alan Barclay, age 48
Perth, Scotland
Alan 3 stone (42 lbs), Sheila 2.2 stone (30 lbs).
"Neither of us thought we would be able to hoop but we absolutely love it. Great exercise and lots of fun. We have even done Powerhoop charity walks. Powerhoop has changed our lives for the better."